Behold! The 2023-Edition Of Life-Changing Sex Toys Has Arrived!
Whether you're shopping for wand massagers, clit-suckers, bunnies, butt plugs, or some totally fresh and unique adult toy, it can be quite an intimidating task. It's unclear what the toy is for, and if it'll be able to make you come - not to mention all the other goodies like brand, price, material, and features. Your search is over - you've come to the perfect spot!
At Adorime, we're gurus of gratification, so we bet you'll find your ideal plaything among the top-notch sex toys for 2023. This compilation of seriously excellent products covers solo and couples' plays, ranging from high-tech vibes to basic toys catering to all. Ready to take a peek? Giddy up!
Our top picks for the new sex toys of 2023:
It's time to buckle up and get scrolling—this is gonna be your highlight of the day! When you eventually settle on your best pick, prepare for the highlight of your thirty days when it arrives at your doorstep. Have fun!
New Beginner Vibrator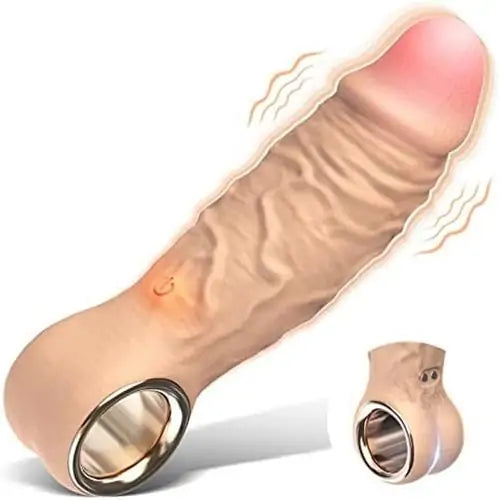 Size: 5.1"L
Material: Silicone
Use: Internal
Run time: 2.5 hrs
Charge time: 2 hrs
Waterproof: Yes
Just beginning to explore the world of sex toys? This mini dildo is an absolute powerhouse—it dishes out 6500 vibrations per minute and 10 incomparable intensity modes, guaranteeing satisfied crescendos within minutes. Plus, it comes with a travel lock and an adorable canvas carrying pouch to make sure you can take it wherever you please!
THE REVIEWS: As one tester writes, "Wow! This was my first vibrator and I'm so happy I listened to the reviews! It's not intimidating at all and was wonderful and really packs a punch for how small it is. Definitely great for beginners!"
New Internal Vibrator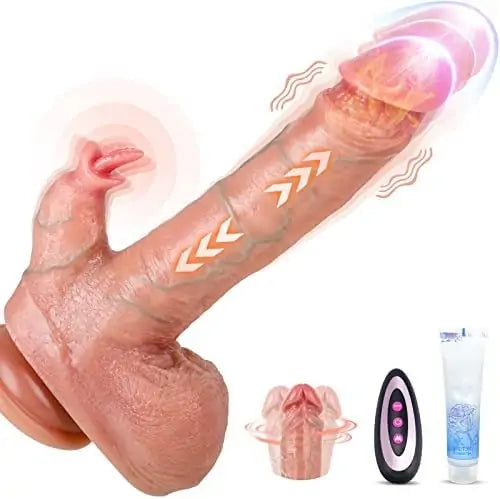 Size: 8.5"L
Material: Silicone
Use: Internal
Run time: 2.5 hrs
Charge time: 2 hrs
Waterproof: Yes
The 8.5" Realistic Dildo Vibrator has a lifelike head, teal veins, soft tongue, and wrinkled balls for an ultra-realistic feel. Add lubricant for comfort. It has 7 thrusts, 10 vibrations, and 7 wiggles. Stimulates G-Spot and clitoris. Activate wiggle mode by bending head and turning on. Powerful 427g suction cup sticks to smooth surfaces. 6.1" insertable, 1.26" diameter - perfect for beginners and advanced. Heats up to 40°C in 5 min.
THE REVIEWS: "I am a person who couldn't really get 'there' with pleasing myself, but this!! THIS is a game changer for me & my BF," one reviewer says. "I never thought I'd be the girl who uses a toy but I've been doing it wrong all along! Smile Makers did what they needed to do with this one."
New Clitoral Vibrator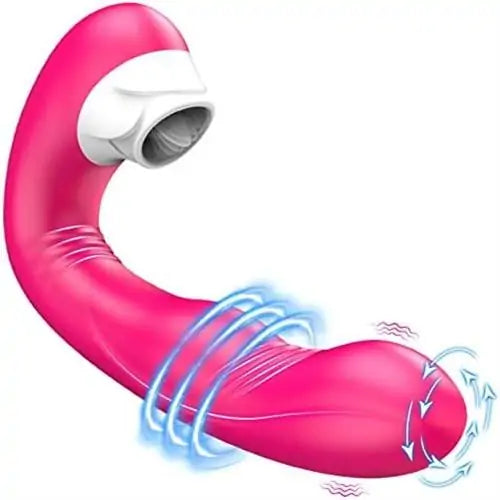 Size: 6.1"L
Material: Silicone
Use: Internal
Run time: 2.5 hrs
Charge time: 2 hrs
Waterproof: Yes
The swing vibe packs a punch, with the ability to swing, lick, vibrate, stimulate the G-spot & backdoor, and send you to a double-climax utopia. 10 Swing & 10 Lick Modes To Choose From - Mix & match the 10 modes to customize the experience from gentle to wild. So easy, you won't even break a sweat.
THE REVIEWS: Well, I wasn't sure what to expect. But this thing was better than I could have thought. Got it as a gift for my girlfriend. She was a little surprised and unsure at first. But she tried it out and, what can I say, it was definitely better than 5*. She said to give it 10. Lol. We used it last night together and it was a night of 1sts.
New Vulva Vibrator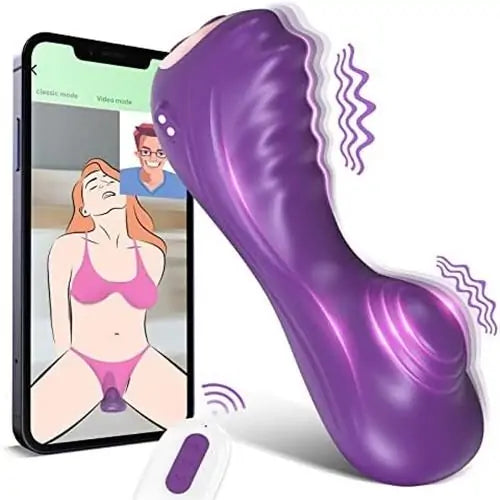 Size: 6.8"L
Material: Silicone
Use: Internal
Run time: 2.5 hrs
Charge time: 2 hrs
Waterproof: Yes
Enjoy a wonderful riding pleasure with the APP Remote Control Curve-Fitting 6.8" Seat Pad Vibrator! It fits your body curve perfectly and the dual motors provide two-level stimulation for orgasmic fun. Connect the vibrator via Bluetooth and control it with either the remote or the APP, which also lets you chat with friends while playing (dirty talk, anyone?). Let your fantasies take flight!
THE REVIEWS: An amazing feature… you may download an app on your partner's phone so they can pleasure you from a long distance!! (Spice it up, couples!!)
I found that for me, (not everyone is the same), the most pleasurable way to use this toy may be slightly unconventional. I prefer to slip the tall ridged end with the buttons inside, and ride it that way for amazing an amazing Gspot session! (Options, ladies. Options. 😁 for a mind-blowing experience, pair it with a sucking rose 🌹)
New Bullet Vibrator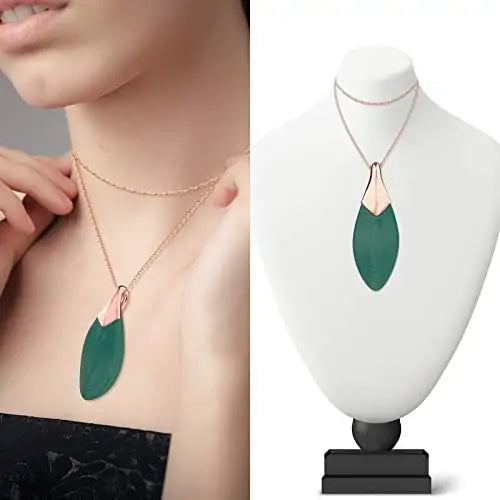 Size: 2.9"L
Material: Silicone
Use: Internal
Run time: 2.5 hrs
Charge time: 2 hrs
Waterproof: Yes
This is not just an clit vibrator. It's a piece of art. Its exquisite shape will never make you feel embarrassed when people see it. It comes with a chain that lets you wear it like a necklace. It's stylish, elegant, and comfortable.
THE REVIEWS: So my wife and I decided to get some more toys to spice up the go option.A little something we decided to do recently and BELIEVE ME WHEN I SAY THIS BAD BOY IS THE BOMB! The vibrations are amazing! It's super easy to clean and it's cute! No one knew it was a vibrator so it was very easy to get around using it while on the toy.
New Tongue Vibrator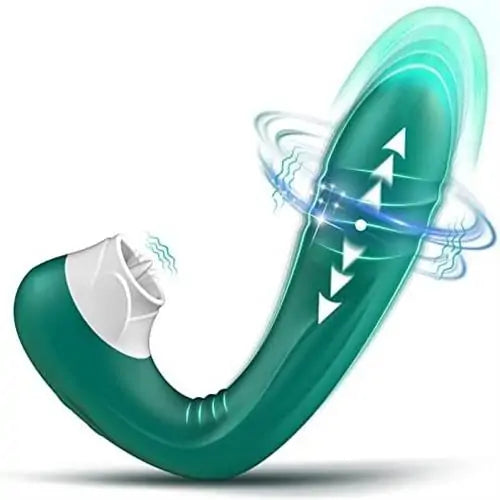 Size: 5.31"L
Material: Silicone
Use: Internal
Run time: 2.5 hrs
Charge time: 2 hrs
Waterproof: Yes
The waterproof vibrator has dual massagers: a clitoris licker and a G-spot massager. With 10 modes, the 15mm telescopic dildo vibrates and thrusts to hit the spot with precision. It's made from flexible, body-safe silicone and can be used in the bath.
THE REVIEWS: This product worked great. But an important aspect to remember is due to its design, don't expect "results" in just a few minutes. It is more of a take it slow type of toy. But if the scenario is just right and you have it positioned correctly, fireworks will happen! I'm also sick of every toy being pink and purple.
New Prostate Massager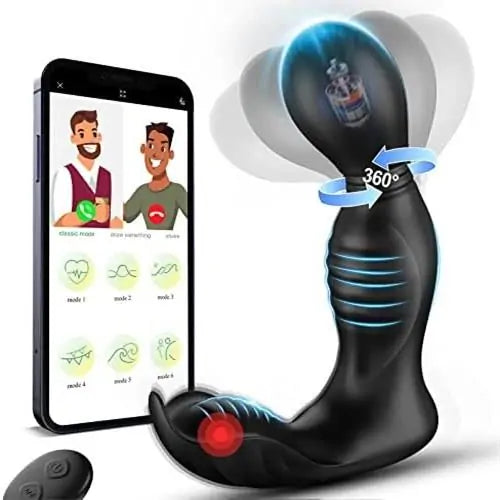 Size: 5.43"L
Material: Silicone
Use: Internal
Run time: 2.5 hrs
Charge time: 2 hrs
Waterproof: Yes
Feel the relentless thrills of "Big & Mighty" Pineapple Man! This powerful, girthy prostate massager will help experienced pleasure seekers reach those hard-to-reach spots with its intense vibration! Get ready for the ride of your life! 🍍🚀
THE REVIEWS: I absolutely adore this toy. Firstly, it can be controlled through an app, which solves the problem of distance. The app has a variety of modes, such as video playback and music. There are six different modes, which sets it apart from other massagers. It's also 360° rotatable, which allows for stimulation of every point and an ultimate pleasurable experience. Additionally, it's very quiet, so you don't have to worry about anyone hearing it when you use it in the room. It's made of silicone, which is safe for the body, and it's magnetically charged for convenience. I'm really in love with this toy and can't wait to use it again.
New Dildo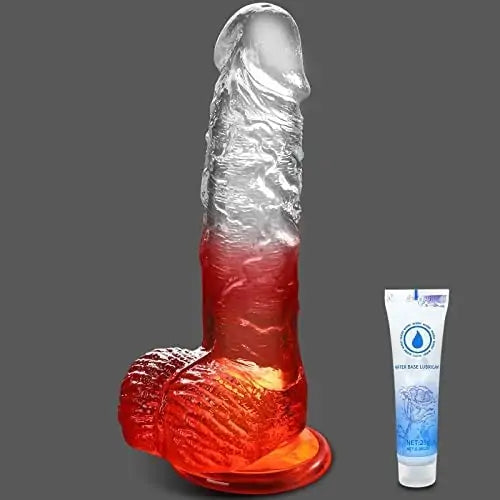 Size: 7.5"L
Material: TPE
Use: Internal
Run time: N/A
Charge time: N/A
Waterproof: Yes
Say hello to 7.5 inches of pure pleasure! Our Small Anal Realistic Dildo is the perfect (and perfectly sized) thing for all kinds of hands-free play. With a strong suction cup and straps for extra fun, the soft and flexible TPE material is body-safe and easy to clean, so you can comfortably explore and enjoy! Let's get it, folks!
THE REVIEWS: Beautiful dildo! I love the color of the ombre clear and red! Very nice length and thickness to it! Comes with lube which is great to use during play time. Also, the suction cup end is nice for hands-free play!!! I am a dildo collector so this is great to have in my collection.
New Sex Doll Torso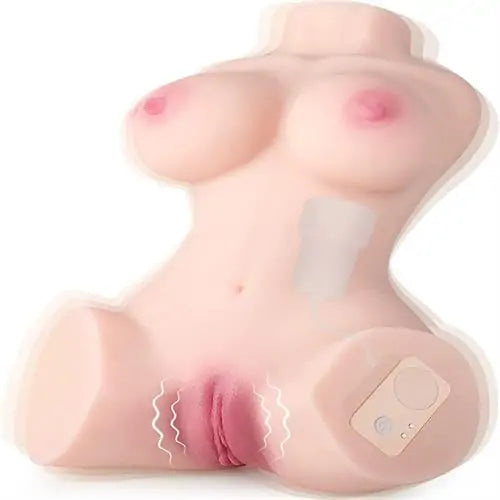 Size: 12.2"L
Material: TPE
Use: Internal
Run time: 2.5 hrs
Charge time: 2 hrs
Waterproof: Yes
The sex doll comes in an eye-catching 310*220*150mm size, with realistic vagina, clitoris, and anus features for a thrilling experience. Its tantalizing breasts add an extra layer of blissful sensations. 10 Trembling Vibration Modes - To take the pleasure even further, this raunchy toy contains a powerful vibrator ready to take your joy ride to the next level with 7 unique sensations.
THE REVIEWS: first get yourself a cushion of something to prop her up on so you can work it different angles easier. you can press into the cushion ( I use a couch cushion) to make it bounce back and forth like a real woman.
New Realistic Pussy Ass Stoker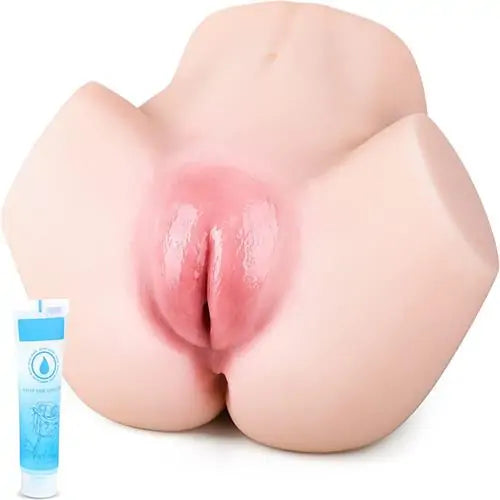 Size: 6.3"L
Material: TPE
Use: Internal
Run time: N/A
Charge time: N/A
Waterproof: Yes
Delightful Masturbator with Real Feel: Stylishly crafted w/swellin' labia and firm buttocks. 2 winding tunnels engulf your penis with lifelike friction from particles, protrusions, and grain lines. Let the 3D realism take you to ecstasy!
THE REVIEWS: The small size makes for a solid tight feeling, and the vaginal and anal canals are independent and not connected so each creates a distinct suction feeling when thrusting into it. This is a great easily cleanable low-cost choice for travel and on the go.