What Is The Rose Toy? A Vibrator That's Scorching Up The Scene!
WHAT IS THE ROSE TOY? 
This rose-shaped clitoral vibrator is what all the rage is about! Made of silicone petals with a hole at the center, it wraps around your clit for unrivaled pleasure. Folks have been singing the praises of this must-have toy on the web recently – and for good reason!
Rose Toy has achieved icon status on TikTok, where #RoseToy has racked up 251 million views. You can call it a vibe, clit sucker, or pleasure air toy – it's all the same: a clitoral suction toy. Plus, you've got plenty of rose designs to choose from – bullet vibes, dildos, wands, and love eggs.
HOW DOES THE ROSE SEX TOY WORK?
The rose sex toy works like many other clitoral vibrators but instead of vibrations, the rose offers a sucking sensation via the spout-shaped feature that wraps around your clitoris at the top of the toy. Various functions and modes can be realized by one or two buttons on the ROSE TOY. Each provides constant clitoral stimulation in different modes and at different levels of intensity.
As about three-fourths of women and those with vulvae require clitoral excitement to climax, it's easy to understand why this type of toy is in high demand. Clitoral vibrators such as rose help bring most individuals to orgasm, as they titillate the external section of the clitoris and, for some, the internal clitoral bulbs and legs – think suction, vibes, and a fluttering, tantalizing feeling. Sounds great, right?
CURIOUS TO FIND THE PERFECT ROSE TOY FOR YOU?
Simply choose the vibration model? Or pick the licking one? Or is it with a plug?
Here we provide you with 10 different rose toys for you to decide, you can select your favorite according to your own preferences, and even try them one by one! Choose the right rose for yourself! Whether you're looking for fun, comfort, adventure, or something else entirely – we've got you (and your trusty rose) covered. With the perfect balance of fun and functionality, you'll be sure to find the rose that best suits your needs!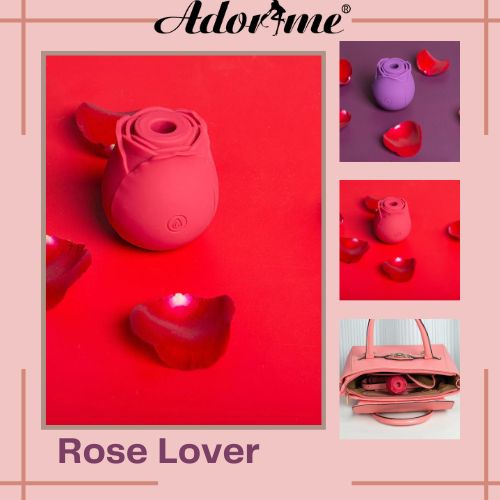 Adorime's rose toys are made of medical-grade silicone, hygienic and odorless. This clitoral suction cup will bring more comfort to your private parts, offering 7 powerful suction modes, the swirling airflow generated by the vibration inside the rose sex toy sucks and teases the clitoris for a total clit licker. Available in red and purple colors.
Reach ecstasy with the Rose Lover Sucking Vibrator! Stimulate your G-spot and clitoris with this passionate toy, sending waves of pleasure sure to reach the peak of your desires. Challenge yourself to see just how far you can go!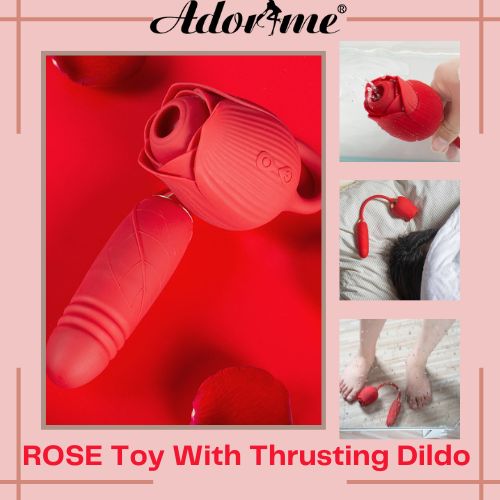 This adorime rose clit sucker vibrator, combining an anal vibrator, is an ideal tool for female masturbation and an excellent aid for foreplay.
Two motors are placed on the head and tail respectively, creating different effects. The suction cup on the head generates extremely compact suction in 10 modes for nipples, clitoris or other sensitive parts stimulation; the insertable tail with 10 vibrating modes and heating function forms a powerful collision to G-spot, driving you to the orgasm by the raging heat wave. And the whole body is covered with body-safe silicone, safe and waterproof, allowing you to enjoy your shower games without any concerns.
Go wild with the Rose Toy with Thrusting Dildo! Perfect for anal, G-spot, and clit stimulation, it features 10 intense clitoral suction modes and independent double motors on both ends. Get crazy with double-pleasure G-spot vibrations! Pack a (pleasurable) punch with every thrust!

🌹Adorime's rose vibrator was crafted with an eye for detail, featuring a soft, bendable rubber tongue that feels incredibly realistic – just like a real person's. This rose-shaped toy offers a unique blend of vibration and licking pleasure to create a fully-immersive experience. You can enjoy the two modes individually or combined for maximum satisfaction.
Unlock your hidden pleasure with the Rose Licking Mini Vibrator! With its whisper-quiet motor, powerful vibration, and unique design, it will take you on a journey of bold, thrilling sensations. Unleash your inner desires and experience stimulation like never before!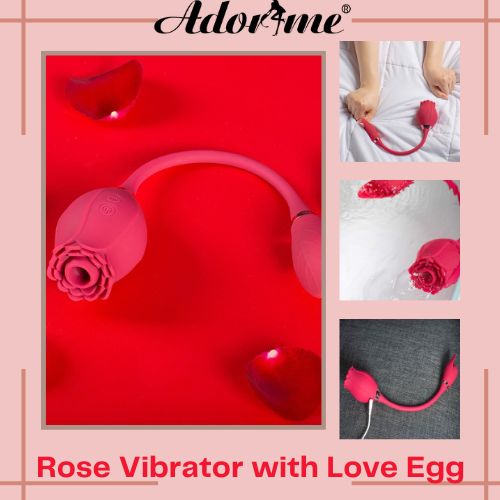 This multifunctional vibrator features a sleek rose clitoris sucker, lip suction, and love egg to provide stimulation to the clitoris, nipples, and anus for an optimal sexual experience. Its 3-in-1 design delivers an aesthetic and comfortable experience, providing an intense and realistic sensation.

Discover the double-delight of Adorime's Mermaid Rose Vibrator with Love Egg Vibe! Let its whisper-quiet, powerful vibrations whisk you away to orgasmic heights and experience the ultimate clitoral stimulation. The overall appearance is like a rose artwork. The combination of romantic rose sucking and passionate egg vibrating will make your delicate skin feel passionate sex.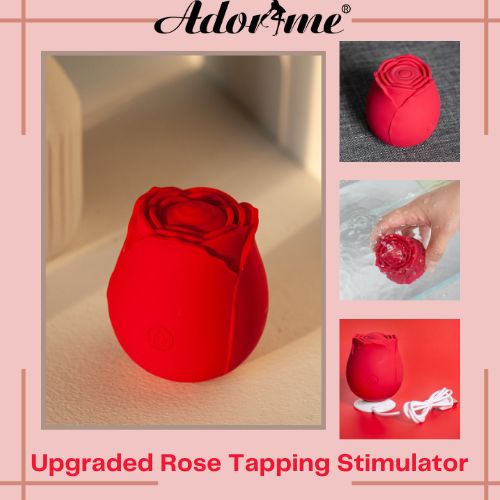 ❤ Different from tongue-licking vibrators or rose-sucking vibrators in the market, this upgraded rose vibrator has its own tapping function, and appearance of rose petals. With 10 different vibration modes, you can tease and tantalize every pleasure point – nipples, G-spot, or anywhere else! Perfect for couples or solo play, Lia will bring a garden of delights to your loving life!
This rose toy uses vacuum bubbling tech to create a flapping sensation that's wider and gentler than ever before. Get ready for an intensely pleasurable tapping sensation! Yowza!! 💕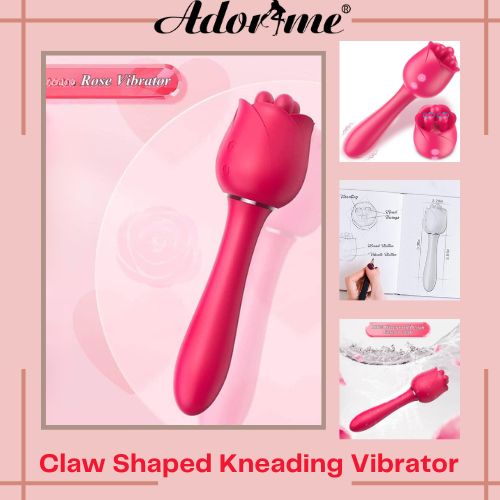 Simple to share during foreplay or massage. The rose massager has 3 vibrating heads, one with strong vibration and the other 2 kneading clockwise and counterclockwise. Made with human-skin-friendly silicone, the rod part can be shaped straight or curved.
Modeled on a Cat's Claw-Rechargeable extra-powerful plug-in mini magic wand vibrator for super-strong vibrations. Offer 9 mind-blowing intensities that range all the way up to a powerful 6,000 RPM. Different buttons control the two functions-- use them together or separately.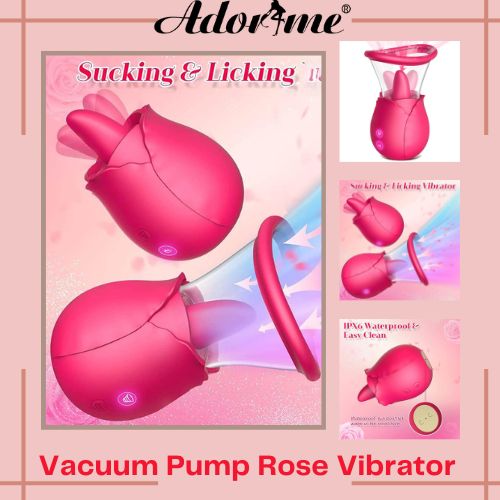 Our upgrade 2-in-1 Licking & Sucking rose toy with a removable suction cup cover creates a good seal and engulfs your entire sensitive area and pulses more airwaves than traditional rose toys to stimulate your clit, nipples, and perineum.
Satisfy your sensual cravings with a rose sex toy, the most creative and effective tongue-sucking and licking vibrator! Make your foreplay steamier than ever and enjoy explosive orgasms! Take your pleasure to the next level with this must-have rose vibrator! 
Small and powerful, this vibrator offers 10 modes for ultimate pleasure. With wireless remote and app control, and long-distance partners interacting via the app, it's perfect for partner play. Ergonomic design fits in sensitive spots, with raised dots for clitoral stimulation. Made of body-safe silicone with IPX7 waterproof rating. Portable, 38g, and whisper-quiet for discreet public wear.
Fun protrusions hug your 'honey beans' while sprightly dots and the 'bee stabbing the flower' tantalize your bud. A beaded tail adorned with flowers tickles your perineum, providing multiple points of pleasure for an amazing climactic experience!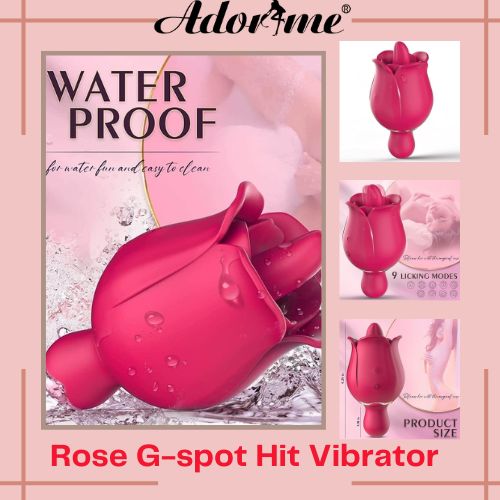 Do you want a sex toy that can hit all your hotspots, and bring you the satisfying, mind-blowing, long-lasting big 'o'? Look no further. Rose Tongue Licking Toy G spot Hit Mini Vibrator.
Unlike other vibrating tongue sex toys, Instead of something rounded or rigid, Adorime tongue rose vibrator features lip-like flaps. This toy offers total 9 Licking & 9 Vibration Modes. Its flaps flutter at varying speeds and intensity levels to produce sensations.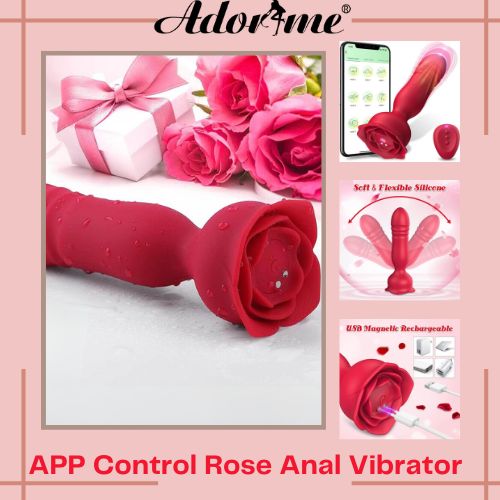 This thrusting anal vibrator connects to the phone APP by Bluetooth, compatible with iOS and Android. You can use the remote or your phone to adjust the 9 default modes. Besides, you can also use the phone APP to make custom vibrations to have various fun.
It is a great addition to a couple's play or Solo. Offering the normal remote controlling way, this APP anal vibrator has movie & music modes as well, which can make the vibration along with the movie or music melody. It even has video-call modes, your partner can control it online face-to-face with you.
Start exploring different joys with rose toys!🌹🌹🌹